By now everyone has heard of the outbreak and spread of the coronavirus from China to other parts of Asia, with currently case clusters being documented in Europe. While the virus itself is concerning on a human level, in the modern globalized world of mass travel, whether for business or leisure, one has to take note of the potential disruptions these health fears will have on travel and tourism.
Flights Cancelled
Around the world, flights have been cancelled to and from China, initially, with these plans extending to South Korea and Iran in late February. In Northern Italy, various public gatherings have been cancelled– including many festivals and museums in Venice– as a precaution against further spread of the virus. Closer to home, Air Canada announced that they will be cancelling all flights to and from China until at least April 10. The American carriers servicing China have also introduced a halt to flights departing to or originating from China until the end of April.
The initial takeaway that travelers should have is that for now, flights to China are severely limited and one should assume there might be quarantine procedures if you managed to take a multi-stop flight to China. Flights to the rest of Asia are relatively as normal, with the exception of South Korea, but this can change day-to-day. The same is true for Europe; airlines are in wait and see mode right now and respond with flight cancellations based on government edicts to suspend travel connections.
Airline Safety Precautions
But airlines are not leaving anything to chance and are engaged in efforts to combat the spread of the virus on their planes. The below graphic is from Thai Airways, demonstrating the steps they're taking on their flights in and around Southeast Asia.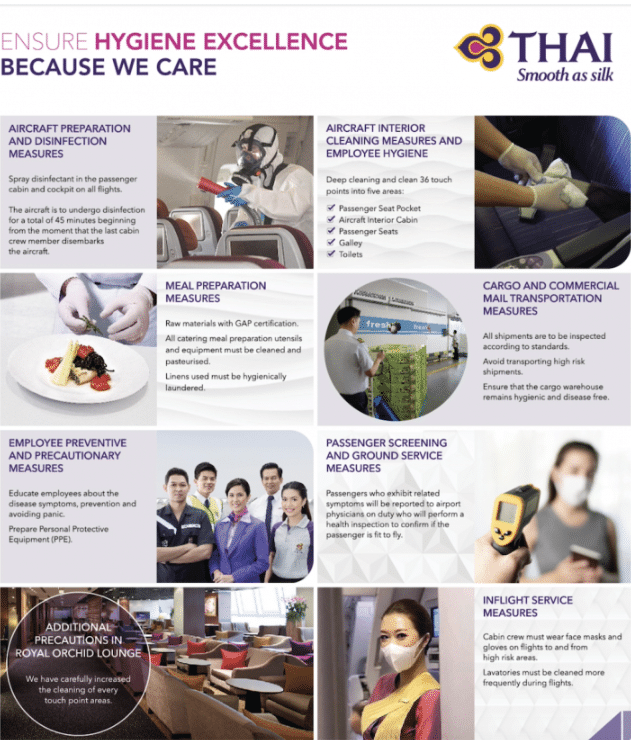 As long as airlines are still allowed to service regions they normally do, travelers can expect similar measures from all airlines to combat the spread, because diligent travelers like yourselves dem and it. While no official announcements have been made, think of these extra measures as added layers of security, and plan to arrive for your flights well before you normally would.
While onboard, drink lots of fluids, eat healthy foods, rest as comfortably as possible and don't be afraid to wear a facemask as extra precaution. Aside from prescription medicine, a good home remedy to guard against viral infections is vitamin C, so eat plenty of oranges and bring vitamin supplements onboard!
Cancel or Wait and See?
Should you seek to cancel your travel plans, be advised there are no set refund policies that apply to all airlines, unless your flight is cancelled. If you choose to cancel your plans as a matter of preference, your best bet is to absorb the change fee and reschedule your trip to a different location, if possible. Should the virus begin to spread even more widely, it is possible that the airlines will be forced through public pressure or governmental regulation to expand their refund policies.
Airline Ticket Centre Can Help
Whether to cancel or change your flight, or to receive more information about the current and likely course of the travel industry with regards to the spread of coronavirus, please contact us. Airline Ticket Centre has numerous agents who have experienced work as a travel agent during previous crises such as Ebola and SARS. We are very well equipped to guide you through the process and help explain how the airlines and travel industry at large will react to viral spreads such as coronavirus.