It's that time of the year where we've seen enough snow to last a lifetime… we all need some sunshine! The daily iced coffees and bubble teas just aren't cutting it anymore and we're sure that going over the favourite winter getaways for Canadians will reinspire you to hit the beach for an all-inclusive vacation this winter! The destinations below represent the favourite winter spots for Canadians, and the accompanying resorts the favourite all-inclusive vacations of our customers within those destinations. Which one will be your getaway this winter?
Cancun, Mexico 
Cancun is the original Caribbean mega resort,and with its white sand beaches, turquoise waters and perfect December to April weather, it's easy to see why it's the favored destination of Canadian snowbirds. Cancun is abundant in shopping, history, nightlife, delicious food and amazing wildlife, so no one will ever be short of things to do. Whether lounging on the beach or partying in clubs or relaxing in world-class spas, Cancun is where Canadians go to while away the seemingly never-ending winter.
Occidental Tucancun
Offering the peaceful reprieve of vacation close to that of the vibrant city life, Occidental Tucancun all-inclusive resort is more towards the quiet end of the Zona Hotelera. Built along the Carribean Sea, your beach, culinary, and archaeological dreams come true! With stunning views on the Carribean and Nichupte lagoon, guests have access to the beach and three pools. Occidental Tucancun's wellness centre offers massage therapy, body treatments, facial treatments, and hydrotherapy treatments to truly relax. Its four different restaurants boast a full buffet with varying daily themes, melt-in-your-mouth seafood dishes, rich Mexican cuisine, and Italian specialty dishes. Shuttle services are offered to guests to equip them with as much ease travelling as possible. Take a day trip to the El Rey archeological area to discover the ancient Mayan ruins. Excursions are led to Chichen Itza, one of the seven wonders of the modern world where a tour guide examines many of the unsolved mysteries. If nature is more your thing, travel to the Mayan jungle in one of the resort's original all-terrain Unimog Mercedes Benz. Swimming in a breathtaking cenote and snorkelling in an underground river, the Indigenous Mayan community comes to life. With opportunities to rappel, kayak, and zipline, mountain bike through jungle trails, witness and participate in a traditional Mayan purification ceremony, this resort has options for any Canadian adventurer seeking a Cancun all-inclusive vacation. 
Varadero, Cuba
A beaming destination of music, stroll through the quaint streets of Varadero listening to live salsa music while breathing in the calming sea air. Varadero is a modern resort area lined with sparkling white sand beaches, adjacent to the quaintness that only Cuba still offers. One afternoon may be spent lounging in the spa, while the next afternoon the traveler takes in the stunning colonial architecture and emerging cultural wonders of Havana. Cuba is just now opening up to the world and in many ways, Varadero is the door through which many of us enter.
Melia Varadero
This 5-star resort is built around its main structure shaped like a six-petalled flower. Its eleven restaurants and bars provide the traveler with a choice of cuisines ranging from local Cuban fare to Japanese and Mexican restaurants. Las Palmas hotel bar offers a lounge/ party atmosphere while la baracoa offers a swim up bar for adults to enjoy Cuban creations in the sun. Be sure to look into The Level service features, which provide a suite of luxury services such as a beach concierge, tea and snack service and flexible check out times. When visitors would prefer to remain active, Melia Varadero offers golf, numerous nautical sports, tennis and volleyball, among others. This 5-star resort has quickly become a favourite of Canadians seeking both luxury and a cultural experience. Being able to visit to immerse oneself in a region as yet untouched by the corporate consumerism of most of the world is a rare and disappearing treat that has caused Cuba,and Varadero in particular, to be at the top of many all-inclusive vacation wishlists.
Cabo San Lucas
Cabo, as it's more commonly called, has become the luxury, jet-set destination in Mexico, supplanting Puerto Vallarta as the "it" place to be on the Pacific coast. With a year round dry and warm climate, it's easy to see why Canadians flock to the region. Cabo is a city within the larger region of Los Cabos, which includes the capital, San Jose del Cabo, where the airport is located, about 33km away. In between is an endless strip of beach where some of the most luxurious all-inclusive resorts in the world have opened. Some people initially balk at the region outside Cabo, as the water has strong currents that make swimming in the sea discouraged. However, Cabo has a large swimmable area which, combined with its legendary nightlife and amenities, has made it a popular destination on par with Cancun.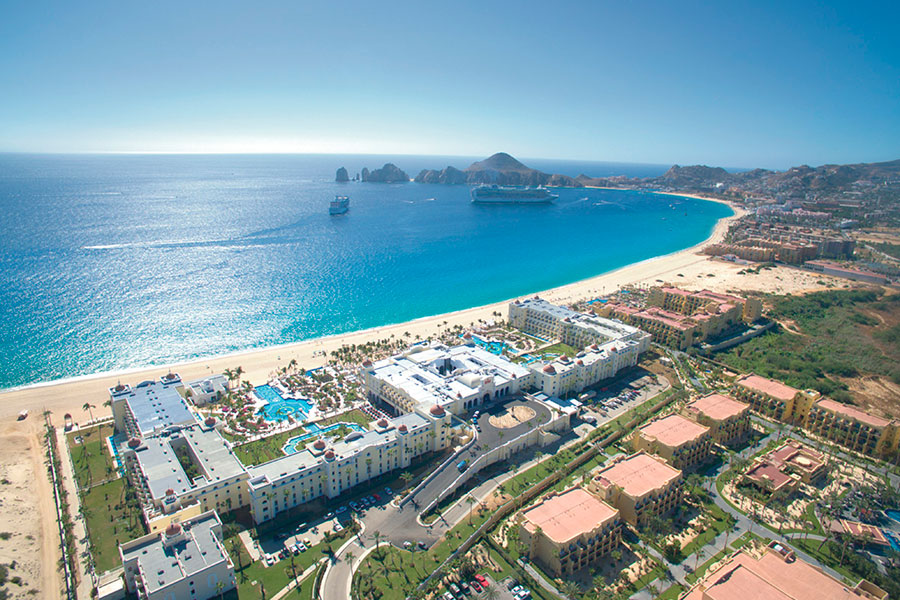 Riu Palace Cabo San Lucas
Travelers have the option of sunning by the hotel's two large pools or taking the action steps away to the beach, where the sea is often in a state where swimmers can enjoy the warm, crystalline water. With choices of Mexican, Japanese and Indian cuisine, along with a steakhouse and a buffet, everyone's taste buds will be satisfied for the length of your all-inclusive vacation. Imbibe in some of Mexico's finest at any of the 7 bars and party the nights away either onsite or in the nearby city of Cabo, at the many local clubs. A stay at the Riu Palace delights the senses and relaxes the soul; it's easy to see why it's among the favourite resorts of our customers!
Punta Cana
On the eastern shore of the Dominican Republic is Punta Cana, the destination where white sand is endless and affordable luxury is ever present. While farther afield than Mexico and less bohemian than Cuba, Punta Cana has nevertheless become a favourite of Canadians who want the island experience with all the amenities they could dream of. To escape winter means relaxing and being bathed in sun, sand and seaand all-inclusive resorts in Punta Cana achieve the desired results with class and affordability.
Barcelo Bavaro Beach
Located on what is considered to be one of the top 10 beaches in the world, the Barcelo Bavaro Beach has recently reimagined itself as an adults-only resort. With 80% of the rooms within a literal stone's throw of the water, this stunning luxury resort is the perfect romantic getaway for couples. With 9 a la carte restaurants included in the all-inclusive package, the traveler will never be left wanting for variety, while Bavaro nightclub helps burn those calories off with late night dancing and frivolity. To wind down after the late nights, U-Spa has the treatments that will reinvigorate, while the onsite Bavaro Casino offers paper writing service games of chance to those who feel lucky. A striking feature of the Bavaro Beach Club is it offers access to all four establishments of the Barcelo Bavaro Grand Resort, ensuring that any service or activity the traveler on an all-inclusive vacation to Punta Cana could ever want is available at their whim. It's easy to see why our customers consistently revisit both Punta Canaand the Bavaro Beach Club resort with attractions and amenities like these!
The above destinations are routinely the most booked on our site and through our agents because they offer the best combination of value, luxury and ease of access for most Canadians seeking an all-inclusive escape from winter. The resorts listed are but a small fraction of those available at each destination, so browse our database to discover the all-inclusive resort that fits your taste and reserve your much needed winter getaway!